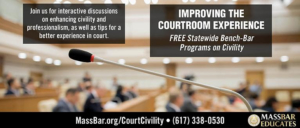 The Massachusetts Bar Association is proud to present a series of statewide bench-bar programs, which will feature interactive discussions on enhancing civility and professionalism, as well as tips for a better courtroom experience.

The July 2019 report from the Supreme Judicial Court's Steering Committee on Lawyer Well-Being cited the deteriorating quality of interactions in court settings between attorneys, judges, witnesses and court personnel as one of the barriers to attorney well-being. The report offered several suggestions to improve attorney wellness, efficiency and quality of life, including a recommendation for regular bench-bar discussions between bar associations and the judiciary.

These programs will feature a panel of judges from each Trial Court department, as well as attorneys practicing before these courts. Each program will be moderated by a leading trial attorney and give panelists the opportunity to offer their perspectives on how courtroom behavior impacts lawyer well-being. Lawyer bullying, the role of judges in preventing incivility and tips for improving civility in contested litigation are among the topics to be addressed.

Attendees are encouraged to bring their questions on these vital topics. Following moderated question-and-answer sessions with the panels, audience members will have an opportunity to ask additional questions and offer suggestions for enhancing the courtroom experience based on their own observations.

Register for these FREE bench-bar programs across the commonwealth. All programs are 4:30-6:30 p.m.
Thursday, March 12

Holiday Inn, 700 Myles Standish Blvd., Taunton

Thursday, April 30

Middlesex Superior Court, 200 Trade Center, Woburn

Thursday, May 14

MBA Western Mass. Office, 1441 Main St., Springfield

Thursday, June 11

Worcester Superior Court, 225 Main St., Worcester